Please login to post comment
EY hiring Analyst
admin trycle

Sep 9, 2021

0 comment(s)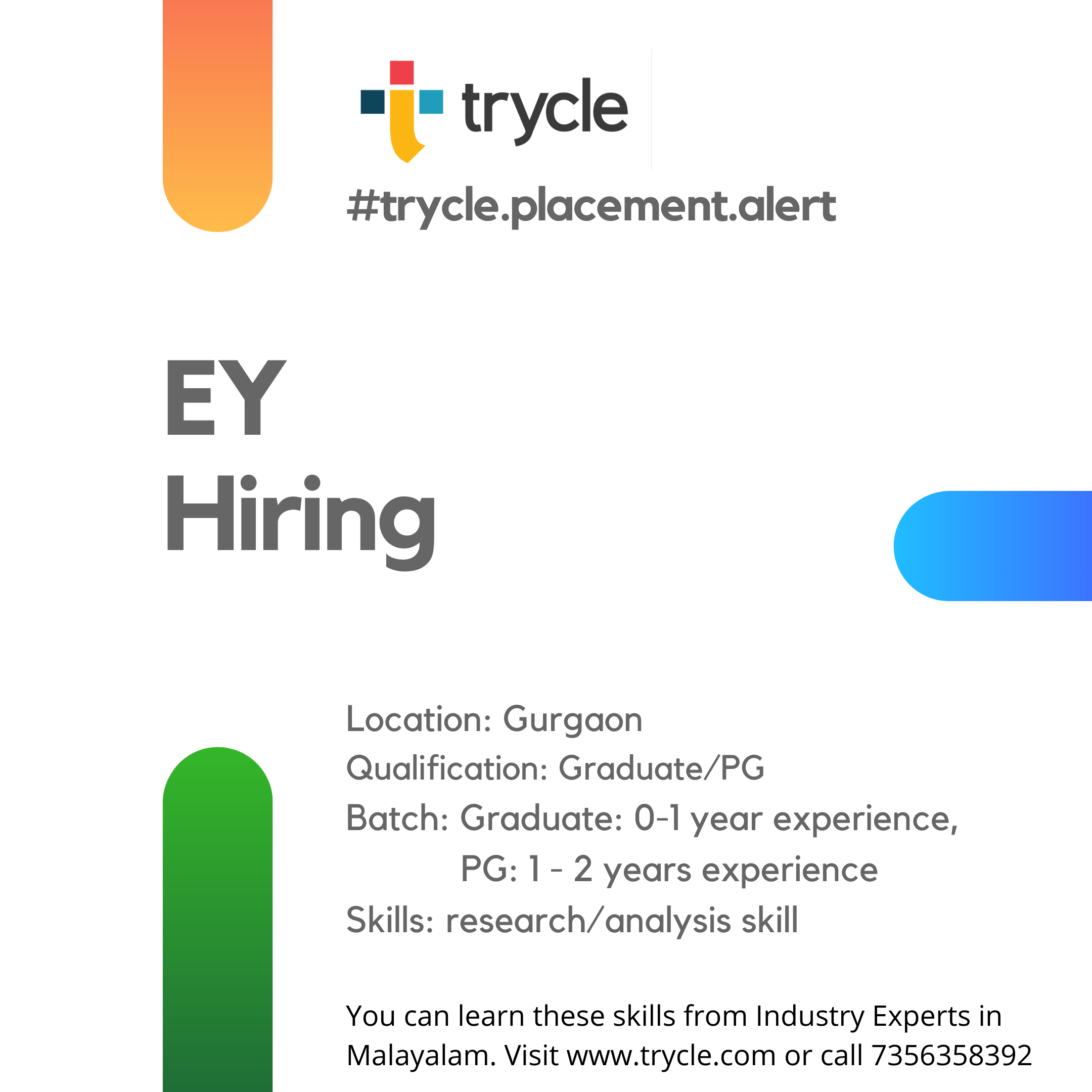 EY hiring FinCrime-Analyst !
EY Global Delivery Services (GDS) consists of various service delivery centers from which their Client Service and Enablement Services teams operate to deliver strategic support to their EY member firms. GDS spans across geographies, practices, services lines, sectors and competencies within EY to deliver deeply-integrated services that result in efficient and world-class solutions.
At EY, you will have the chance to build a career as unique as you are, with the global scale, support, inclusive culture and technology to become the best version of you. And they are counting on your unique voice and perspective to help EY become even better too. Join them and build an exceptional experience for yourself, and a better working world for all.
Looking to refresh or acquire these skills, Trycle can help you. All the above skills are easily accessible on the Trycle platform and you will be learning from experts. With an average work experience of 10 years, all the courses are taught in Malayalam by these experts from the technology world.
MS Excel for professionals:-https://www.trycle.com/courses/ms-excel-for-professionals-starter-pack
Job Description
Other locations :
Primary Location Only
Date : 03-Sep-2021
The role would facilitate, and support research needs of the firm's professionals on a proactive and reactive basis. The selected candidate will also be responsible for support on updating EY's Client Relationship Management and other EY databases.
responsibilities:-
Understanding the end-to-end process of signing off / accepting a client and/or engagement for the EY offices.
Performs initial review of submissions from engagement teams and evaluates completeness, accuracy and appropriateness of proposed transaction/requests.
Manages tasks and activities in a timely manner and is responsible for specific outcomes
Learns the firm structure, business strategies, service lines, and people of the firm
Builds a network of people within RMS and across the firm
Plans and organizes own work and keeps others informed of status and activities
Mandatory Skills required:-
Good written and oral communication skill
Good negotiation skills and decision-making capabilities
Experienced in managing larger team, prioritizing tasks and delegating responsibilities
Expertise in MS office tools – Excel, Access, Power point, Word
Knowledge of visualization tools like Tableau, Power BI etc. is an added advantage
Qualification and Experience:-
Graduate with 0-1 years of experience in a research / analysis role
PG with 1-2 years of experience in a research / analysis role
APPLY HERE NOW:-https://careers.ey.com/ey/job/Gurgaon-Analyst-FinCrime-HR-122010/701174301/
( 0 ) comment(s)